Play
Welcome to Lympstone Tennis Club
Lympstone Tennis Club was founded in 1981. The Club plays on two courts located at the Village Hall behind Lympstone Church. Club Sessions (roll-up basis) are held on Tuesday evenings and Saturday afternoons when prospective new members are welcome to come along. The Club takes part in matches throughout the year in both the Exeter and East Devon Leagues. We provide suumer coaching for both Juniors and Adults and a variety of social events are held throughout the year.
Club Sessions
Sessions are held on Tuesdays from 6.30pm and on Saturdays from 2pm.  The Club provides balls for these sessions and floodlighting when necessary. A duty roster is posted on each notice-board and the duty person will open the Committee Room, where toilet facilities and refreshments are available. If anybody is waiting to play, then matches end after 7 games. The person waiting the longest chooses the next four on court.
Court Schedule
Day
9am
10am
11am
12pm
1pm
2pm
3pm
4pm
5pm
6pm
7pm
8pm
9pm
Monday
2 courts booked
9-10.30
Cardio with Ollie
7.30 - 9.00
Tuesday
Club Session 6.30pm
Wednesday
1 court booked
League Matches
Thursday
1 court booked
Adult coaching 6.30 - 8.00 May - Oct
Friday
1 court booked
Saturday
Club Session
Sunday
1 court booked
Club Sessions – all year round
Tuesdays from 6.30pm
Saturdays from 2pm
Visitors are very welcome.  For further information please contact Liz Griffiths.
Social Tennis – Walk on and Play
Members may use the courts at any time except during matches, tournament, coaching and Club sessions. One court only is booked on Monday, Wednesday and Thursday morning from 9-11 am. Please refer to the court schedule for availability.  Adult members who wish to play at a particular time may call in during a club session to book a court for one hour, up to two weeks in advance.  We would stress that this is not intended to replace and "walk on and play" procedure which works very well, it is just an option for those members who may want to play at a specific time.
Visitors
Our courts may be used by non-members by arrangement.  Please contact Jill Dixon for further details.
Non-members
Non-members with member
Per hr per person
Per hr per court
Per hr per person
Seniors
£4
£10
Seniors
£2
Students
£2
£5
Students
£1
Juniors
£2
£5
Juniors
£1
Floodlights
Members may obtain access to floodlights at no additional cost.  Please contact Jill Dixon for details.
Court Keys
A court key is available for adult members to purchase.  Please contact Andrew Lorenc.
Get Coaching
Court availability
Session rota 2018 online for members.
News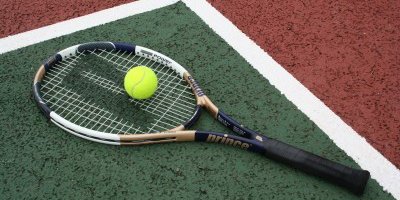 Following the AGM, here is all the information you need to get your tennis season started.  Your committee for the coming year:  Jill Dixon (Chair), Liz Griffiths (Secretary), Andrew Lorenc… Read more